5
MIN READ
Before you can think of hiring top candidates for your organization, you'll need to find them first. Finding the best talents for the job can be difficult if the channels you're looking through are saturated with job listings as well, you'll need to employ creative candidate sourcing strategies.
Securing top talent to your roster of employees will take a clear understanding of what to look for in each candidate, how to create eye-catching job advertisements to attract them, and structuring a competitive offer to have them sign on your organization.
In this article, we'll focus on answering what are some sourcing strategies recruiters use to maximize their efficacy. Keep reading to elevate your sourcing practices.
Candidate Sourcing Techniques for Your Business
As an HR specialist, you're most likely familiar with multiple sourcing strategies for your business. This means you already know how difficult it is to get a handful of high-quality leads from these various channels.
For example, while online job boards can give you a volume of applicants, there's so much you need to weed out. Industry conferences are a great way to network but so few happen in a year that the position you're hiring for could be left empty for months. Social media can be a great way to get the word out about your vacancies. However, the lack of professional connections can make it ineffective.
The truth of the matter is that in the global workforce, only 30% are actively looking for jobs. This leaves the majority of people as passive job seekers. While passive job seekers are open to new opportunities, it's much harder to find them because they won't be frequenting job boards or career fairs. This means you'll need to make use of additional methods to find and recruit them.
Making Your Candidate Sourcing Methods Stand Out
While using several employment sourcing strategies to find a candidate is nothing new, maximizing your resources and making your brand unique is a different story. Having remarkable recruitment branding can give your firm an edge, providing applicants a unique experience that will leave a lasting good impression on them.
Take your organization's sourcing strategies to the next step by using some of these techniques:
Think Like Your Ideal Candidate
Creating a persona of your ideal candidate can help you craft job ads that fit their bill. You might not attract your perfect candidate, but it can give you a sense of what you're looking for in qualifications. For technical roles, it's best to interview people in your organization with the same role to get a better grasp of the qualifications a candidate should possess.
The position you're hiring for may have a different job title in other companies which can severely limit your advertisement's reach. Look online for job titles with similar responsibilities and include these designations in your job post.
For example, you're looking to fill the position of "Customer Service Representative." This may be the job title for your company, but another organization may use the title of "Client Experience Specialist." Keep your eyes open for other possible nomenclatures for the vacancy you're hiring for.
Bringing in new team members to your team, especially if it's not a rank-and-file position, can be a tedious process that can take up considerable resources. Evaluate your current team members and see if there's anyone you can tap for the position.
You'll never know, the right person may already be in your company, you just need to activate them.
If you've already hired for the role before, take a look at your data and see if there's anyone you've already considered for the job before but turned down. Go through the hiring notes and see why these previous candidates weren't hired. They may not have been fit for the role before, but they could be ready for the position now.
Just remember that the resume of the individual you're looking at will not be updated and you'll need to do some estimations on your end for their experience. Going through the résumés of previous talents is a great way to access passive job seekers.
It might be time to switch out your Applicant Tracking System (ATS) for screening tests instead. The use of ATS has reduced the workload of recruiters by filtering out employees who don't meet their requirements. However, it can also reject highly qualified candidates that weren't able to insert the right keywords in their résumé.
Instead of using ATS to filter out talents, try to employ screening tests for the position instead. Screening tests are done online and can guarantee that you'll only look at the CVs of qualified candidates.
Once individuals have found a job, they usually opt out of job boards and job fairs, making them unreachable by your usual means. Asking for referrals from current team members is a great way to hire for a role. But if this method isn't fruitful, you can consider attending professional events to network for the job you're looking to hire for.
By gaining access to this professional network, you can find a candidate to fill the role or someone they can refer for the position. Keeping connections will make your job easier.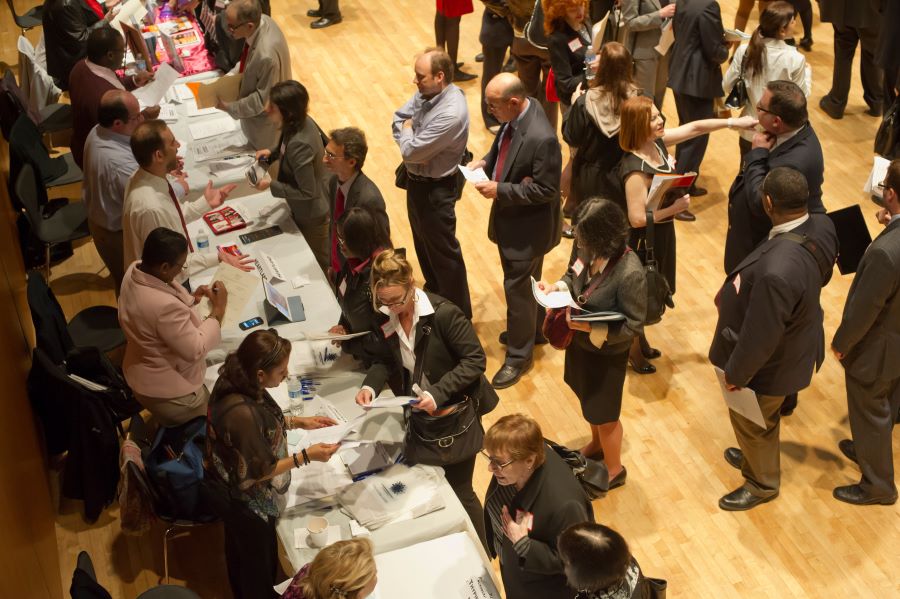 As we've said above, staying connected with people can aid in the hiring process. You can apply this exercise to previous candidates who applied for the job. Research shows that candidate nurturing is what will make passive candidates more likely to respond to recruiters.
Staying in touch with previous applicants, acquaintances, and social media connections can help you hire efficiently in the long run. You can stay in contact by congratulating them on their achievements, reacting to their posts, or even sending them a direct message to say hello.
Building an online presence by keeping in touch with your connections is only one part of the process; sending it at a convenient time to ensure that they respond is another. People are on different platforms at various hours of the day, but by utilizing these schedules, you'll get a positive response to your outreaches.
Here are some of the best times to reach out to passive talents for maximum response:
Email – Between 9 and 10 A.M. on weekdays
LinkedIn messages – Between 9 and 11 A.M. from Monday to Thursday.
Elevate Your Sourcing Methods
We've gone through some of the candidate sourcing strategies that recruiters employ to get great results. As you can see, it doesn't have to be hard, but it will require some creativity, patience, and manpower investment to get the ball rolling. You can reach out to us at Aptitude.ph to help you get started with enhancing your sourcing process.
I'm In! What Do I Do Next?
We make it easy for you to hire the right people and build talent within your organization.
Contact us today to improve your selection and recruitment process.